Understanding Addiction and Why Stigmas are so Dangerous
Overdose Deaths are Rising - Dramatically
The United States is facing an epidemic of massive proportions.
In 2020 alone, nearly 92K people died from drug-related overdoses. That's more than double the number of deaths in 2010 (38,329) and five times as many in 2000 (17,415)1.
This trend is tragic.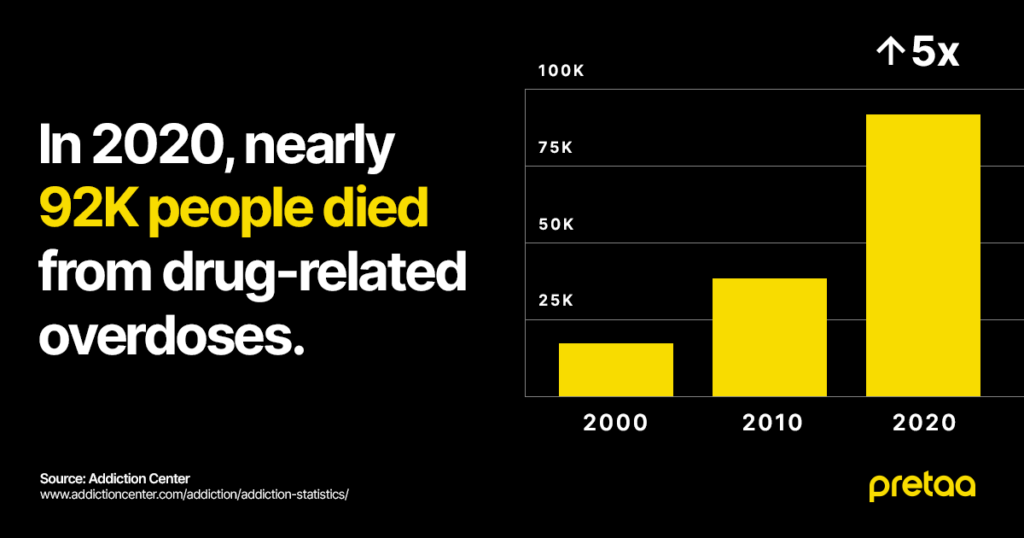 But People's Concern Recedes
Despite this dramatic increase in overdose deaths, the number of people who consider Substance Use Disorder (SUD), also commonly referred to as drug addiction, a major problem surprisingly declined from 42% in 2018 to 35% in 2021, according to a survey conducted by Pew Research Center surveys2.
In a separate study conducted by Pew Research Center in early 2022, respondents shockingly ranked dealing with the Substance Use Disorder (SUD) problem last out of 18 total priorities when asked what issues the president and Congress should address that year3.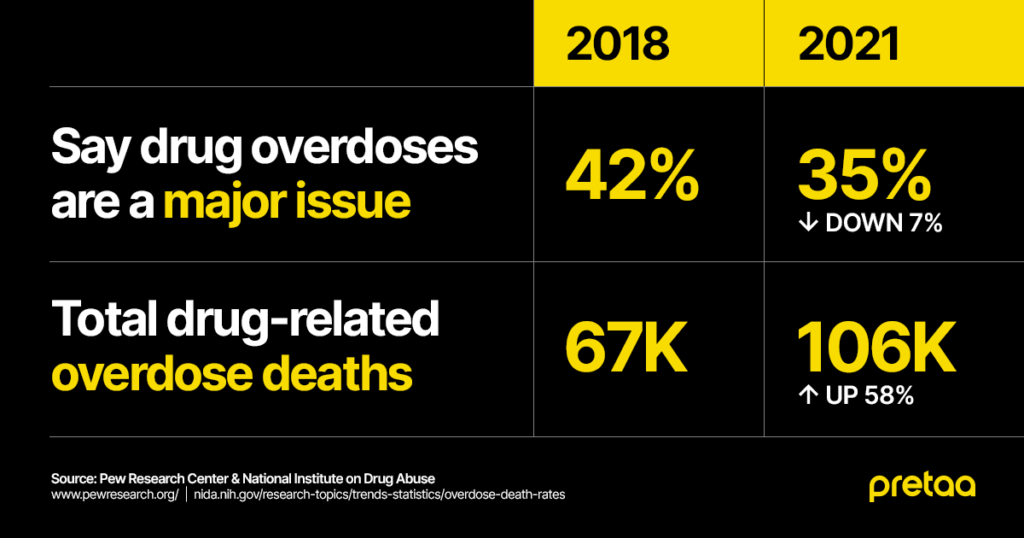 Why do so many of us think addiction is becoming less of a problem?
Do we need to learn more about addiction? Or do we need help understanding it better?
Probably both.
This article summarizes Substance Use Disorders and sheds light on the negative consequences of the deeply-rooted associated stigmas.
The most important thing to know about addiction is that it is a chronic disease characterized by frequent relapse. Addiction is not a matter of weak willpower or a lack of moral character. It is a long-term medical condition driven by changes in the brain's reward and motivation systems that can be extremely difficult to overcome without proper treatment and support. 
It's worth repeating: addiction is a disease. 
When a person becomes addicted to drugs or alcohol, their brain undergoes functional changes that can cause the individual to continue seeking out and using a substance despite adverse consequences. These changes in brain function can make it difficult for someone with an addiction to stop using the drug, even if they are motivated to quit. 
It's also crucial to understand that addiction, while chronic, is also treatable. Overcoming addiction to embrace recovery is doubtlessly challenging, but it is possible with the proper support and effective treatment. Seeking help from a medical professional or addiction specialist can be a crucial step toward recovery. And with the right treatment program, support system, and aftercare, people with SUD can overcome addiction and lead fulfilling, healthy, and productive lives.
The Physiology of Addiction
When a person uses drugs, the substance enters their brain and binds to specific receptors, which can cause changes in the brain's chemical and physical structure. 
Over time, frequent drug use can lead to a psychological and/or a physical dependency on the substance. The person also becomes more tolerant of the drug and requires larger doses to achieve the desired effect. Increased frequency of use and larger doses often ultimately lead to dependency that affects the person's behavior, mood, and overall functioning. 
Further, the effects of drug addiction can vary depending on the specific drug and the individual's unique biology. 
Compulsive drug use can lead to many deleterious effects, including physical problems, psychological issues, social and relationship dysfunction, and financial difficulties. For example, SUD can lead to health concerns like liver damage, heart problems, and lung disease. It can also cause an increased risk of mental health issues such as depression, anxiety, and psychosis. Additionally, drug addiction typically strains relationships with friends and family and leads to financial hardships up to and including homelessness.
It's a Hard Cycle to Break
Most people with SUD experience an ongoing cycle of using, withdrawal, and relapse. If the people in their support system fully understand how this cycle works, they can better help those struggling with addiction work toward better outcomes. 
The first thing to understand is that relapse is not a failure. It's simply part of this challenging process. 
For example, once a dependency becomes established, any attempts at stopping will result in withdrawal symptoms such as anxiety, nausea, insomnia, and depression. These symptoms make maintaining recovery difficult because nobody wants to experience these unpleasant symptoms, and continued drug use helps to avoid them. 
As you can see, withdrawal symptoms can make it challenging for people to break this cycle even if they want to; therefore, they will likely experience relapse. And they may even face new and compounding challenges like insomnia and depression. 
When a setback happens, the proper perspective is essential. Relapse is not failure, nor does it mean it's time to give up. It's just part of an arduous process. And this is why it's so important that the people in their support system become educated on addiction and recovery, stay empathetic and connected, and avoid the negative perceptions of stigmas.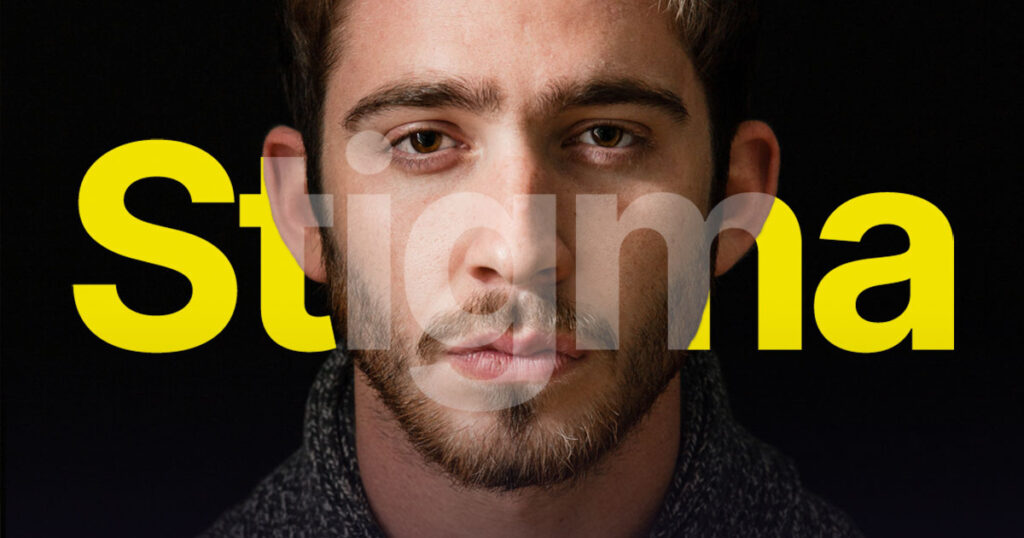 The dictionary defines stigma as a mark of disgrace or discredit associated with a particular circumstance, quality, person, or group that are beliefs based on misinformation or a lack of understanding. 
Stigmas can be physically visible, such as a tattoo, or psychological attributes others perceive as a negative characteristics. They can be associated with many things, including mental illness, poverty, physical disabilities, and addiction. 
Let's discuss stigmas in the context of addiction. 
The most important thing to understand about the stigmas surrounding addiction is that they can profoundly affect an individual's views about themselves, leading to shame, guilt, or depression. These views can cause someone to become socially isolated and prevent them from accessing vital services such as healthcare due to fear of judgment or discrimination.
Living with Addiction Stigmas
No one likes to be labeled. And living with a negative reputation can be difficult. It's even worse when that reputation is based on a stereotype, which is true for many people who suffer from drug addiction. Most people perceive addiction as a character flaw or moral failing instead of a chronic disease that requires medical treatment. This perception creates a lack of empathy and promotes avoidance, not connection. 
For many, the word "addict" conjures images of someone dirty, untrustworthy, or even dangerous. And often, when someone thinks about drug addiction, they think of illegal substances like heroin or cocaine. But the fact is, addiction also involves the misuse of many legal drugs, such as prescription medications and alcohol. 
Stigmas can profoundly impact the lives of those who are stigmatized, leading to discrimination, social isolation, and many other negative consequences. For example, it may be difficult for people with addiction to find and maintain employment or housing. Employers may be hesitant to hire someone with a history of addiction, and landlords may be reluctant to rent to someone who has previously struggled with addiction. 
People affected by these stigmas may also struggle to maintain meaningful relationships with friends and family due to feelings of shame and isolation caused by others' perceptions. When people internalize these negative stigmas and perceptions from others, it undermines their empowerment to fight the addiction and causes them to seek isolation, not social connection.
All of the above can severely hinder recovery and make it difficult for people with addiction to rebuild their lives and move forward in a positive direction.
Movies, TV, and the News Contribute to the Problem
Addiction stigmas are also found in films, TV shows, and the news, which only seem to characterize the most extreme cases. 
For example, drug addiction is often used as a plot device to create conflict or tension in a movie or TV show and usually involves crime and violence.
While the presence of characters dealing with addiction is not harmful, the portrayal of the most extreme cases, including crime and violence, creates or reinforces negative stereotypes and stigmas. As a result, it can make it harder for people with drug addiction to be treated with empathy and seen as individuals with chronic diseases, not criminals. 
Addiction stigmas also exist in the news, with media coverage most often perpetuating negative stereotypes in stories and headlines. It's evident in the language used to describe people suffering from addiction, with terms such as 'junkie' and 'addict' being used by journalists to represent individuals dealing with this disease. Additionally, when drug addiction is being reported on in the news, there tends to be an emphasis on stories about crime, violence, and tragedy rather than recovery and hope. These negative headlines only perpetuate the stigmas surrounding drug addiction and make it harder for those seeking support or advice because they don't want their own life to be compared to the stories being reported on in the news. 
Movies and media companies have the power to shape public opinion. They can be influential in how society views and treats many issues. In the case of drug addiction, it would be more helpful if movies portrayed it in a nuanced and realistic way rather than reinforcing (and promoting) harmful stereotypes. 
People dealing with addiction would more likely feel empowered if exposed to positive stories of hope and recovery, as opposed to shame. 
Sadly, stigmas make it harder for people with addiction to discuss it with family and friends because they fear being judged, labeled, or compared to movie characters. But they are not actors. They are our friends and family. Our sons and daughters. Our mothers and fathers. So, if we only view addiction through a stigma, can we truly understand and support our loved ones in their most desperate time of need?
Stigmas Can Lead to Healthcare Discrimination
Healthcare discrimination related to addiction occurs when people are mistreated or denied access to healthcare services because of their history of drug or alcohol use. 
One of the most common forms of addiction healthcare discrimination is the denial of treatment or inadequate treatment. When healthcare providers themselves have negative attitudes or beliefs about addiction, it may lead to a lack of empathy or understanding which could negatively affect treatment. In these situations, people with addiction may be denied access to specific medications or medical procedures because of their history of drug or alcohol use. Further, a lack of empathy may create a barrier to communication and trust between patients and healthcare providers, making it difficult for people with addiction to receive the best care. 
Healthcare providers can avoid this type of discrimination if they are trained to identify and treat addiction effectively, administer non-judgmental and empathetic care, and respect patient confidentiality and privacy.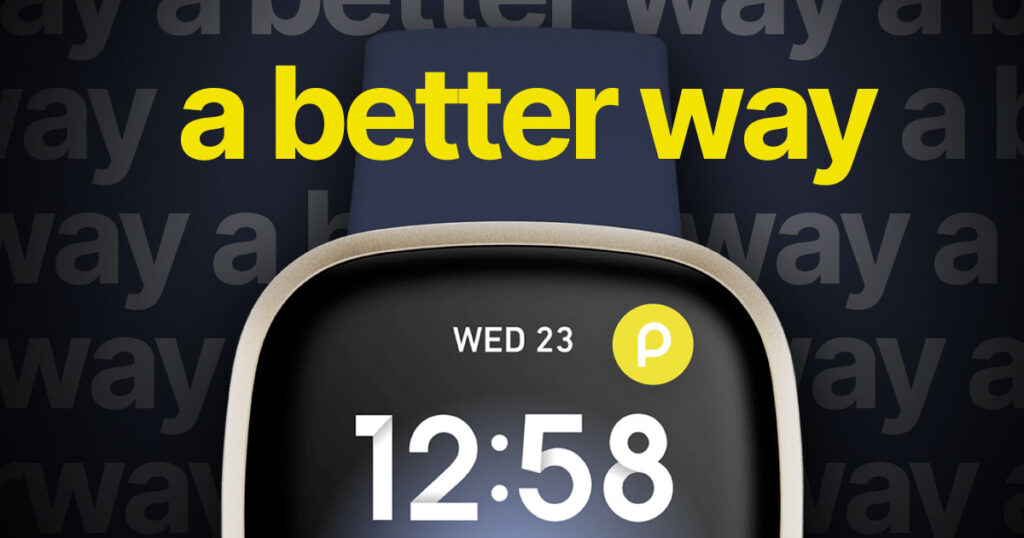 Let's start viewing addiction as a disease.
Let's treat those fighting addiction with compassion and care.
And let's stop the stigma.
The best way to do this is by becoming educated about how addiction and the recovery process work. We must constantly remind ourselves that addiction is a disease and engage those fighting addiction with empathy and understanding – not stigmas.
Stigmatizing addiction only prevents people from getting healthy. And it prevents friends and family from being a meaningful part of their recovery.
The circumstances for which someone became addicted should not matter. What matters most is that we support and help them recover – before it's too late. If they don't feel stigmatized, they are more likely to seek help, get treatment, and achieve sustained recovery.
Beyond education, it's time to approach treatment differently. The current methods are not working, as evidenced by skyrocketing overdose deaths. 
It's time for a new and better way.
How Pretaa Improves Treatment
At Pretaa, we know the need for better, more effective treatment has never been greater. In addition to better treatment, education can play a more significant role in helping with this epidemic. 
We created a better way to help people with treatment and recovery because we know that better connections equal better treatment which equals outcomes. 
Recovery takes a village. And data. 
Vulnerable populations need active support from their caregivers, friends, and families. And these support systems need information. 
Our treatment solution focuses on the continuum of care to support recovery every single day. 
By using wearable devices enabled with the Pretaa app, healthcare providers can stay connected with patients and monitor their vitals every day. We help families, friends, and caregivers by analyzing data from wearable devices whenever and wherever the patient may be. Tracking activity, sleep, oxygen levels, and heart rate data from wearables provide daily opportunities for self-learning and ongoing engagement, which can lead to positive behavior change. Caregivers can know when treatment is not going well, so they intervene to help prevent a full-blown relapse or, more tragically, death.
Using biometrics to validate and add rigor to patient self-reporting is critical to fully understanding patient outcomes post-treatment and during treatment. Achieving a holistic picture enables providers to understand and fill gaps in individual patient care protocols and refine treatment tools and processes. 
Only then, with a focus on data and outcomes, can we truly begin to move the needle and improve addiction treatment to reduce relapse rates and save lives. 
With Pretaa, caregivers can stay connected with patients post-treatment when they are most vulnerable. 
And that's why we're here.
If you or someone you know is facing addiction, seeking help as soon as possible is essential. Numerous resources are available to provide support, guidance, and treatment for those affected by substance use disorders. 
One of the first steps you can take is to contact the Substance Abuse and Mental Health Services Administration's (SAMHSA) National Helpline at 1-800-662-HELP (4357). This helpline is available 24/7, offering confidential assistance and information about treatment options, support groups, and community-based organizations. 
You can also visit SAMHSA's treatment locator (https://findtreatment.samhsa.gov) to find local treatment centers and services in your area. 
Additionally, consider contacting local support groups such as Alcoholics Anonymous (https://www.aa.org) or Narcotics Anonymous (https://www.na.org), which provide peer-to-peer support and resources for individuals in recovery. 
Remember, seeking help is a courageous step, and a network of support is available to guide you or your loved one toward recovery.