Privacy Policy

Effective Date: 1/13/2022
Pretaa, Inc., a Delaware corporation ("Pretaa", "we," "us," "our," or the "Company") is a software as a service ("SaaS") that helps clients ("Customers") and their users ("you") bridge the gap between sales and the customer by helping businesses get the information they need. This is done via seamless integration and merging of various business systems into a shared set of actionable information. This model includes our website (the "Site") and a mobile application (the "App") (collectively, the "Services").  
Pretaa is committed to protecting the privacy of individuals who visit the Sites ("Visitors") and individuals who register to use the Services as defined above ("Customers"). This Privacy PolicyPolicy describes our privacy practices in relation to the use of the Services as well as individuals' choices regarding use, access and correction of personal data. 
If you have any questions about this Privacy Policy, or the information we hold about you, please contact us at 1 Grove Street #812600 Wellesley, MA 02482. Or contact us via email at privacy@pretaa.com.
1. Applications and Services Covered
This Privacy Policy covers the information practices, including how the Company collects, uses, shares and secures the personal data that you provide through the Services.
Pretaa provides an application with a variety of networking and productivity tools and opportunities for individuals and organizations. Networking and sharing personal data on Pretaa is entirely voluntary and can only be the result of registration. When you use our Services, we collect and store your personal data as provided by you or your employer. We may collect and store the following personal data:- name, address, contact numbers, email address.
Pretaa provides a website with a variety of educational tools and opportunities for individuals and organizations to engage and communicate with Pretaa. Sharing personal data on Pretaa can only be the result of visiting pages, registration, or an explicit request to communicate with the Pretaa organization.
Pretaa's Services may contain links to other Web sites. The information practices or the content of such other Web sites is governed by the privacy policies of such other Web sites. Pretaa encourages you to review the privacy policies of other Web sites to understand their information practices.
2. Our Contact Information
For the purpose of applicable data protection legislation, the data controller of your personal data is Pretaa Inc., located in 1 Grove Street #812600 Wellesley, MA 02482. Our Data Protection Officer can be reached at privacy@pretaa.com.
We do not process any sensitive personal data (e.g., social security numbers, information related to racial or ethnic origin, political opinions, religion or other beliefs, health, biometrics or genetic characteristics, criminal background or trade union membership) hence do not disclose any such information on or through the application or services or otherwise to us.
Additional information for European Union and UK Users:
By clicking "I Agree" or any other button indicating your acceptance to this privacy policy, you expressly consent to the following:
You consent to the collection, use, disclosure and processing of your personal data in the manner described in this privacy policy, including our procedures relating to cookies, IP addresses and log files.

You consent to the transfer and processing of your personal data in the United States and the UK.

You consent and agree that we may transfer your data to data processors located in countries, including the United States and Canada, which do not have data protection laws that provide the same level of protection that exists in countries in the European Economic Area. Your consent is voluntary, and you may revoke your consent by opting out at any time. Please note that if you opt-out, we may no longer be able to provide you our services.

You consent to us sharing your personal data with relevant persons working for service providers who assist us to provide our Services.

If you have enabled cookies on your web browser, you consent to our use of cookies as described in this Privacy Policy.
If you later want to change your consent, you may contact us at privacy@pretaa.com.
3. Types of Data Collected Directly from User
Pretaa collects and stores personal data (first name, last name, work email, company name, department) when your employer purchases a Pretaa account; employers will provide personal data to us.

Pretaa collects and stores personal data (first name, last name, work phone number, work email) whenever you use Pretaa applications and services that require information persistence, such as scheduling, messaging, event management, and other software program information.
When expressing an interest in obtaining additional information about the Services or registering for an event, Pretaa requires you to provide us with personal contact information, such as name, email address, company name, department ("Required Contact Information").
When purchasing the Services or registering for an event, Pretaa may also require you to provide the Company with financial qualification and billing information, such as billing name and address, credit card number, and the number of employees within the organization that will be using the Services ("Billing Information").
Pretaa may also ask you to provide additional information, such as company annual revenues, number of employees, or industry ("Optional Information") when speaking to Pretaa.
When Visitors apply for a job with Pretaa, Pretaa may also require you to submit additional personal data (first name, last name, work email, company name, department) as well as a resume or curriculum vitae ("Applicant Information").
Pretaa collects and stores personal data (first name, last name, work email, company name, department) when you register for a Pretaa demo, webinar or other activity, voluntarily provide personal data, or when you register for other Pretaa activities.
Pretaa collects and stores personal data (first name, last name, work email, company name, department) whenever you use a Pretaa website that requires information persistence, such as requesting a demo or requesting help from sales or support.
Required Contact Information, Billing Information, Applicant Information, Optional Information and any other information you submit to Pretaa in any electronic or verbal communications are referred to collectively as "Data."
Pretaa collects location data when the app is closed or in the background. You can always take away the location permission through your OS (iOS / Android) location settings.


4. Types of Data Collected Indirectly from User
On purchasing a Pretaa account and whenever you use Pretaa Services, the Pretaa system integrates data from an assortment of your company's source systems including CRMs, CSMs, and Issue Tracking systems.  The Pretaa system collects and stores information about the your company's Customers and Opportunities such as Annual Recurring Revenue (ARR), contract closed/renewal date, number of software licenses client has procured, your Company's Competitors as listed in their CRM, your Company's Net Promoter Score, your Company's Industry, The Opportunity's Sales Stage, Net Promoter Score, CSAT Score, product order details etc.
Pretaa uses cookies and other technologies to provide your online experience and also to assess in aggregate, the ways in which people use our services.
Pretaa servers store information when you visit a Pretaa service, use our products, or otherwise access a Pretaa URL. Stored information includes the URL, IP address, browser types and language, and also the date and time of your request.


Pretaa uses cookies to make interactions with the Company's Web sites easy and meaningful. When you visit one of the Company's Web sites, Pretaa's servers send a cookie to your computer. Standing alone, cookies do not personally identify you; they merely recognize your Web browser. Unless you choose to identify yourself to Pretaa, either by responding to a promotional offer, opening an account, or filling out a Web form (such as a "Request a Demo"), you remain anonymous to the Company.
Pretaa uses cookies that are session-based and persistent-based. Session cookies exist only during one session. They disappear from your computer when you close your browser software or turn off your computer. Persistent cookies remain on your computer after you close your browser or turn off your computer. You can control the use of cookies at the individual browser level, but if you choose to disable cookies, it may limit your use of certain features or functions on our Web sites or Services.
The following sets out how Pretaa.com uses different categories of cookies and your options for managing cookies' settings: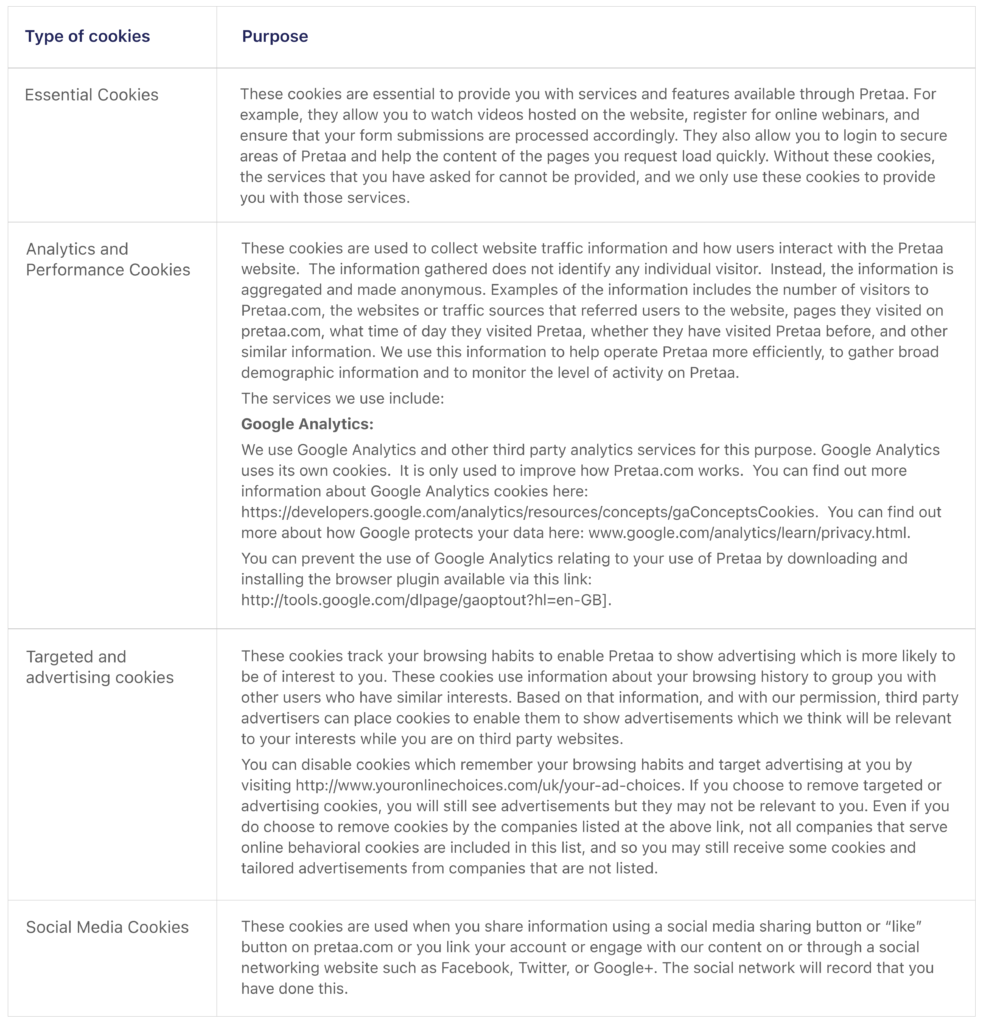 Pretaa will only process your personal data in accordance with applicable data protection and privacy laws. We need certain personal data in order to provide you with access to the Services.
If you created an account with us, you will have been asked to check a tick box indicating your agreement to provide this data in order to access our Services. This consent provides us with the legal basis we require under applicable law to process your data.
You maintain the right to withdraw such consent at any time. If you do not agree to our use of your personal data in line with this Policy, please do not use our Services or provide us personal data either over the phone, in email, through web forms or in any other way.
Location is needed to show compromise of zones. These zones are implemented because crossing / entering these zones might negatively affect your wellness journey. Your location can be determined with varying degrees of accuracy, depending upon the device OS (iOS / Android). The types of location data we collect and how long we store it depend in part on your device and account settings. We monitor zones using real time location. Not all location data leaves your device. Only when you compromise a zone, we pick the compromise event and store it in our servers. Additionally, we save your last known location, intermittently. We do not store historical data of your last known location. You can always take away the location permission through your OS (iOS / Android) location settings.


7. Sharing of Information Collected
Service Providers
Pretaa may share Data about Pretaa Customers with the Company's contracted service providers so that these service providers can provide services on our behalf. These service providers are authorized to use your personal data only as necessary to provide the requested services to us. Without limiting the foregoing, Pretaa may also share data about Customers with the Company's service providers to ensure the quality of information provided. Unless described in this Privacy Policy, Pretaa does not share, sell, rent, or trade any information with third parties for their promotional purposes.
Pretaa stores your personal data for product use in Amazon Web Services (AWS).
Third Parties
We may disclose your personal data to any third party with your prior consent.
Pretaa maintains contracts with these third parties restricting their access, use and disclosure of personal data, and Pretaa may be liable if they fail to meet those obligations and we are responsible for the event giving rise to damage. 
Compelled Disclosure
Pretaa reserves the right to use or disclose information provided if required by law or if Pretaa reasonably believes that use or disclosure is necessary to protect Pretaa's rights and/or to comply with a judicial proceeding, court order, or legal process.
In certain situations, Pretaa may be required to disclose personal data in response to lawful requests by public authorities, including to meet national security or law enforcement requirements.
8. International Transfer of Information Collected
Your data, including personal data that we collect from you, may be transferred to, stored at and processed by US parties and our affiliates and other third parties outside the country in which you reside, including, but not limited to the United States, Canada and the European Union, where data protection and privacy regulations may not offer the same level of protection as in other parts of the world. The data in another jurisdiction may be accessed by the courts, law enforcement and national security authorities. By using our product, you agree to this transfer, storing or processing. We will take all steps reasonably necessary to ensure that your data is treated securely and in accordance with this Policy.
9. Communications Preferences, Opt Out and Unsubscribe Information
Pretaa offers users who provide contact information a means to choose how the Company uses the information provided. You may manage your receipt of marketing and non-transactional communications by clicking on the "unsubscribe" link located on the bottom of the Company's marketing emails. Additionally, you may unsubscribe by contacting us using the information in the "Contact Us" section.
We will only retain your personal data as long as reasonably required for you to use the Services unless a longer retention period is required or permitted by law (for example, for regulatory purposes).
11. Automatic Decision Making
We do not use your personal data for the purposes of automated decision-making. However, we may do so in order to fulfil obligations imposed by law, in which case we will inform you of any such processing and provide you with an opportunity to object.
12. Rights to Your Personal Data
Depending on your location and home jurisdiction, you may have additional rights, including rights under the California Consumer Privacy Act of 2018 ("CCPA") or the EU General Data Protection Regulation ("GDPR"), regarding how we use and share your information. Such rights may include:
Opt-out (Right to Restrict Processing). You may have the right to opt-out of: (i) certain communications; (ii) automated decision-making and/or profiling; (iii) our collection of sensitive personal data; (iv) any new processing of your personal data that we may carry out beyond the original purpose; or (v) the transfer of your personal data outside the European Economic Area (EEA). Please note that your use of some of the Pretaa website and product may be ineffective upon opt-out.
Access (Right to be informed, Right of Access). You may have the right to access the data we hold about you, request further details about how we collect, use or disclose your information and to update or correct any inaccuracies in this data. Registered users of Pretaa products may review, update, correct or delete their information in their User account by contacting their employer. In some cases, users can update some of their personal data in the Pretaa product. If you have contacted Pretaa for sales or marketing purposes and you need your personal data updated, you can contact us to change or delete your information.
Erase and forget (Right to Erasure). In certain situations, for example when the data we hold about you is no longer relevant or is incorrect, you can request that we erase your data and request that parties to whom we disclosed your data to the same.
Non-Discrimination. You may have the right not to receive discriminatory treatment from us based on your exercising of any other of your consumer rights under applicable laws.
To obtain more information about exercising your rights, including how to designate an authorized agent to make a data request for you, please send an email to privacy@pretaa.com.
Please be advised that upon the receipt of your request, we may ask you to provide additional information so that we can verify your identity and process your request. We may not accommodate a request to change information if we believe the change would violate any law or legal requirement or cause the information to be incorrect.
For the purposes of the CCPA, we do not sell your personal data, except where you explicitly consent to such sale, in which case we will present you with further information about how your information may be sold and your ability to opt-out of such sale at the time of collection.
13. Changes to This Privacy Policy
Pretaa may update this Privacy Policy from time to time by posting a new version online. You should check this page occasionally to review any changes. If we make any material changes we will notify you by posting the revised Privacy Policy on our Websites. This helps you to always be aware of what information we collect, how we use it and under what circumstances, if any, it is disclosed. Your continued use of the Websites, the Subscription Service, and/or continued provision of Personal data to us will be subject to the terms of the then-current Privacy Policy.
Pretaa referenced in this Privacy Policy includes Pretaa Inc located in the United States and all subsidiaries worldwide.
Questions regarding this Privacy Policy or the information practices of the Company's Web sites and Services should be directed to Pretaa's Privacy team by emailing us at privacy@pretaa.com or by mailing us at: 1 Grove Street #812600 Wellesley, MA 02482.